BJT launches a new industrial-grade air cushion machine, model LA-E5P. This industrial-grade air cushion machine is designed to meet the needs of modern packaging operations, redefining efficiency and performance, and setting a new standard for air cushion packaging with its advanced features and excellent sealing capability.
Fast inflation speed: LA-E5P's inflation speed can reach up to 30 meters per minute, which is unrivaled compared to our other air cushion machines and most of the air cushion machines on the market.
Strong sealing efficiency: LA-E5P has excellent sealing efficiency, thanks to its unique heating element design (dual heating mode) and excellent connection technology, which ensures optimal sealing and effectively prevents air leakage.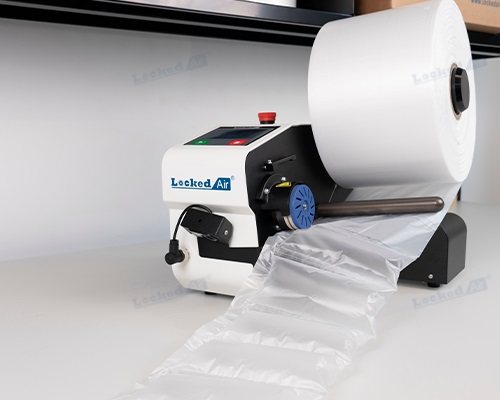 Low maintenance cost: LA-E5P eliminates the design of vulnerable parts such as blades and heating belts, allowing users to effectively reduce machine maintenance costs.
Intelligent algorithm: LA-E5P is equipped with an intelligent algorithm that provides precise temperature control within a range of 1%, allowing for instant temperature adjustment to compensate for environmental temperature changes, ensuring consistent and reliable sealing performance. With LA-E5P, you can achieve optimal sealing results in any working environment.
Material savings: LA-E5P aims to minimize material waste and optimize resource utilization. Its efficient temperature control algorithm allows real-time control of heat sealing temperature and fan speed, ensuring stability throughout the process. This feature prevents excessive material waste during start-up and shutdown stages (some air cushion machines may waste cushion film due to mismatched airflow and temperature when they are turned on after being stopped), maximizing packaging efficiency and reducing costs.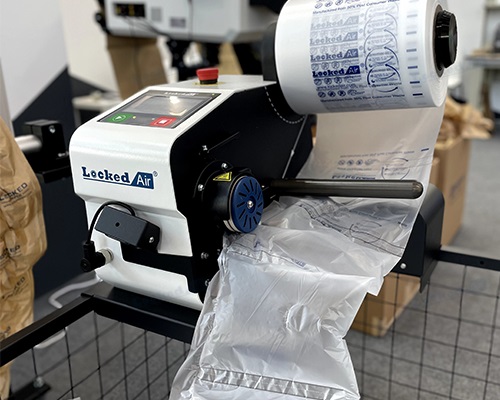 User-friendly touch screen interface: LA-E5P adopts a user-friendly touch screen interface, simplifying operation and enhancing user experience. The intuitive interface allows for easy navigation and intelligent control of machine settings, enabling users to quickly get started.
Automatic material level sensor: LA-E5P is equipped with a monitoring sensor that can monitor the consumption level of cushion film inside the net frame. When the value is lower than the user-set value, it automatically produces cushion film for replenishment, realizing unmanned operation.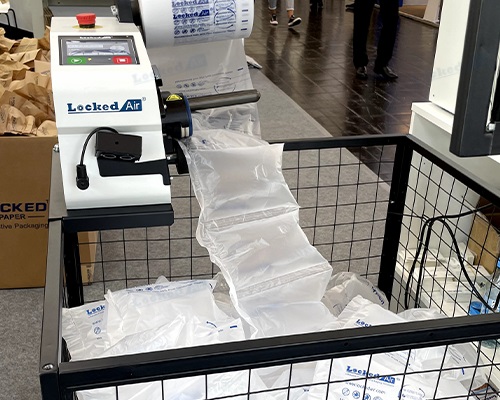 In conclusion, use LockedAir LA-E5P to unleash the potential of packaging operations, experience excellent sealing efficiency, reduce material waste, and enjoy intuitive operation. Please trust that LockedAir can provide innovative packaging solutions that meet higher quality and performance standards. You can always contact us to communicate and learn more about the revolutionary features of LockedAir LA-E5P's and how it can improve your packaging efficiency. Let us move towards efficient and sustainable packaging solutions together.