Passion 5th Anniversary, Team Battle
Time fly, Bing Jia Tech. has gone through a full five-year!
Bing Jia Tech.has been adhering to the initial commitment to customers with high quality products. In order to strengthen the team cohesion of the staff, improve the team cooperation ability, train the staff not afraid of difficulties, the team spirit of dedication,we invite professional outdoor development coaches to hold a "Five Years of Passion, Team Work" for all staff in the beautiful Bottle Kiln Fisherman Da Modern Industrial Leisure Park. Warfare Outward Bound Training Activities.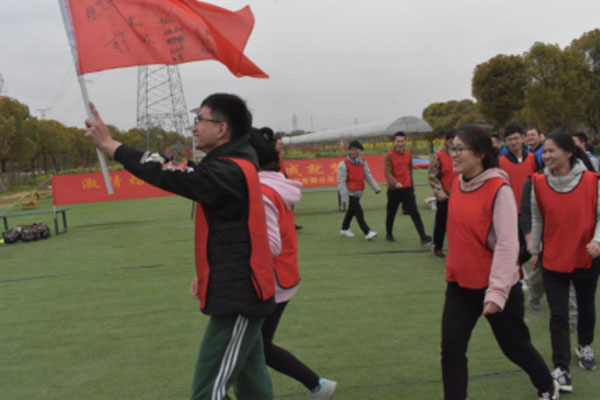 After arriving at the destination, the coach opened the development campaign with a phrase "Please forget your identity here". Next, the general mobilization, the division of sub-units, the selection of team leaders, the name of the team, the number of slogans and the drawing of team flags are carried out in an orderly manner. Finally, "Spark Team", "Victory Team", "Superpower Team" and "Blue Dream Blue of the Blue Sea" four teams show their team building results with positive and upward spiritual outlook.
After a series of preliminary preparations, the coach announced that the morning activities were divided into three categories: challenging NO1, mine water intake and fingerboard battle.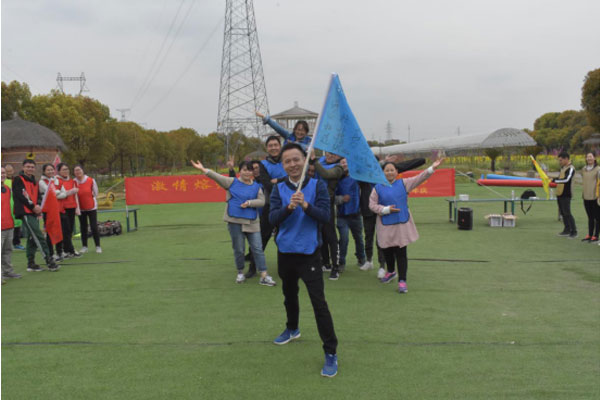 Challenge No1: Four small projects need to be completed in 5 minutes.:
After repeated exercises, the teams work together and each team is successful in the end.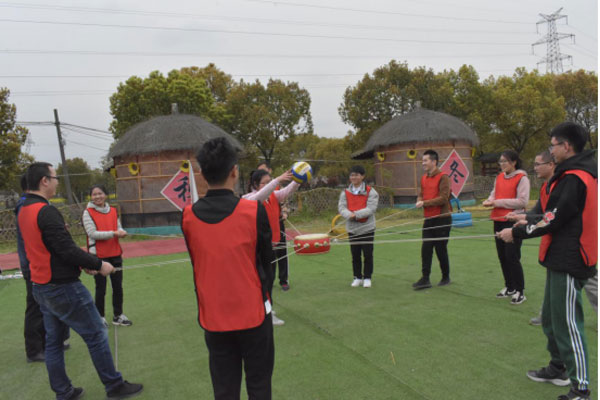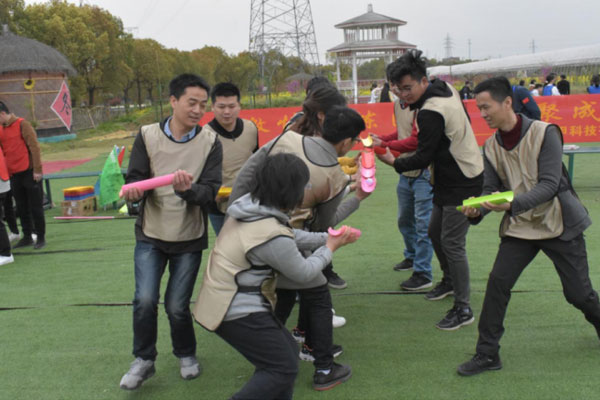 The second item is to fetch water from minefields:
Within the specified time, all members of the team use tools to fetch water bottles from minefields. Water is not allowed to spill, and tools and personnel are not allowed to touch the ground. This is a project that tests personal creativity, optimal allocation and teamwork. After receiving the task, the team discussed one after another for a while, and each of them had strange tricks. At last, they succeeded in using more than ten methods of water intake.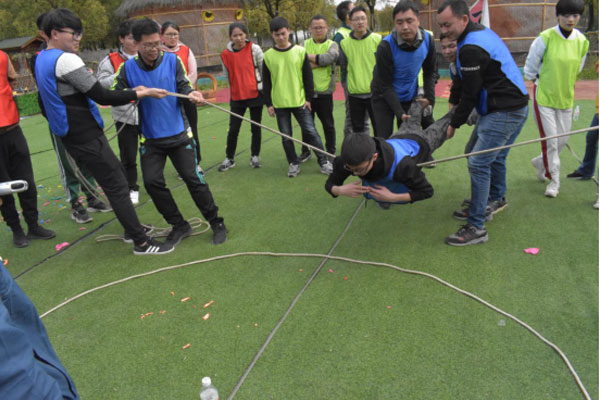 The third project refers to the pressure plate war:
that is, each pair of participants complete the project barefoot on the uneven pressing board in the form of relay, which includes backhand rotation, rope skipping, balloon bursting, backhand forward and shooting, and finally handover by clapping hands. This project further mobilizes personal and team trust, responsibility, communication, planning, tacit understanding, cooperation, win-win!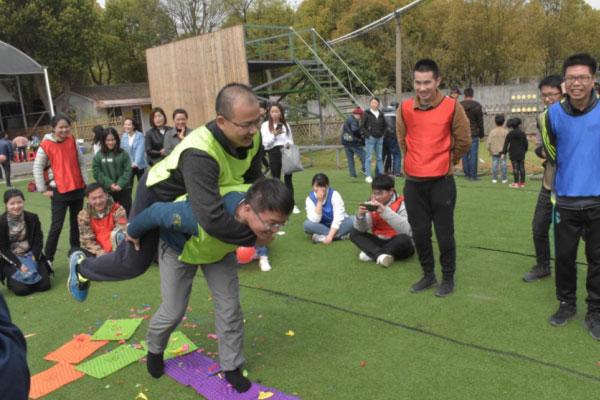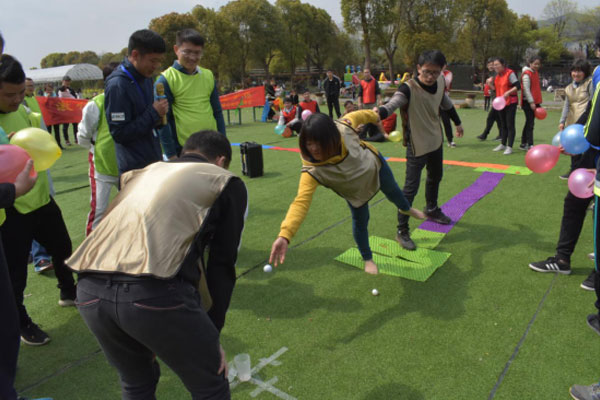 The morning passed quickly in tension and excitement, and in the delicious lunch awaited the afternoon's "ultimate battle" - - graduation wall!
3.6 meters high escape wall, smooth without attachment, 40 teammates are not allowed to use any external force, to pass in 30 minutes.
Think about it as if it was impossible at all. Some people even said "I don't think I can go up, I'm applying to quit". However, we did --40 teammates passed, none of them fell. When everyone succeeded in jumping onto the wall, hoarse cheers rang, tears mixed with sweat, flowing down everyone's cheeks. When the coach reported that it took only 12 minutes to complete, deep pride overflowed everyone's mind: Yes, it was thought impossible, we not only finished, but also completed perfectly!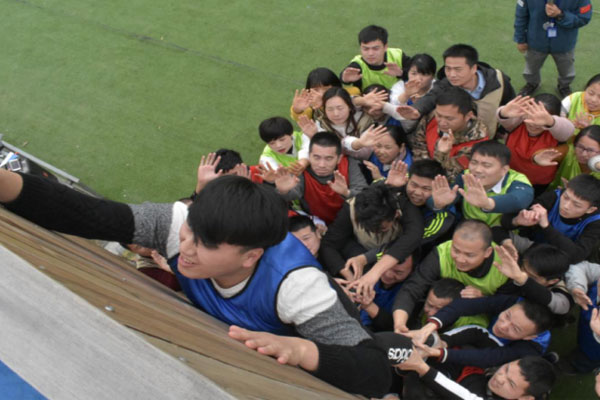 The coach's voice sounded appropriately again: "Do you remember who gave you arms and let you climb on his strong knees and shoulders? Do you remember who reached down the high wall and helped? Do you remember who tried to reach the top of your hand as you climbed?
They are parts of our team, and they are quiet teammates at the critical moment. They protect you from climbing up the escaping wall. They are all raised by their parents. At home, I believe they are the precious sons of their parents."
At this point, all people's hearts are full of emotion besides pity: for climbing up the wall first, and persisting in pulling up one friend after another and touching them!! In order to bite the teeth below as the cornerstone, so that a number of companions on their shoulders to survive friends touched! In order to ensure the safety of the people on the wall, with their own hands will be a friend raised high!
To complete the task, still returned to the outside quietly holding hands as a protector friend and moved! Imagine that it would be impossible to accomplish a task without a ladder that would have been willing to be trampled on by people even if their shoulders were covered with bloodstains.
Imagine that if the whole team did not have a pair of hands raised high to protect, it would not have such an amazing result. Faced with the choice of life and death, all of us worked together, united, helped each other, and finally passed the test with excellent results. Many of our small partners also made comments on the spot, believing that this vivid scene will remain in our hearts forever!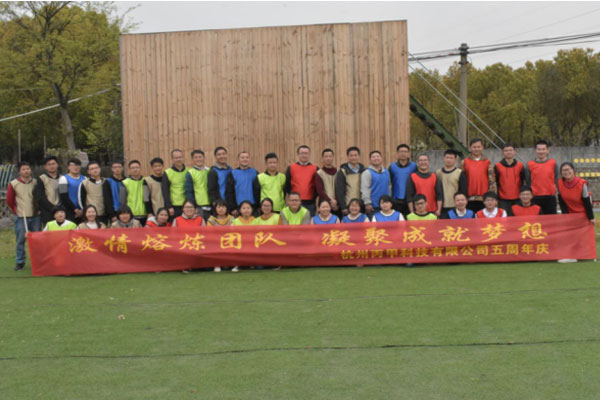 After a day of fierce competition, the Sparks finally topped the list.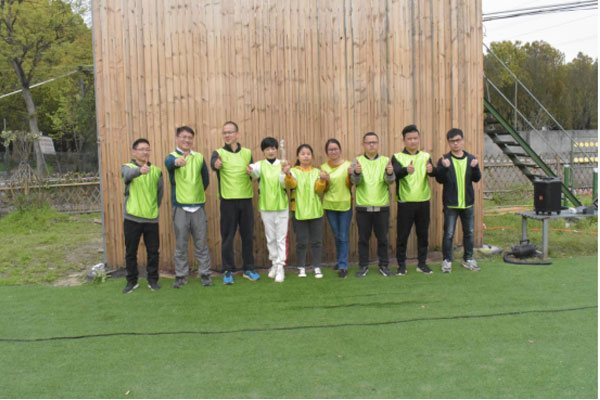 At the end of the expansion, General Manager Peter Si made a final summary speech. He recalled the growth and progress of C-A people in the past five years, lamented that this expansion saw the concerted efforts of all of you, and hoped that the passion and experience gained in the expansion training could be applied to future work and life with a sense of gratitude. Heart, constantly accept the challenges of life one after another!